Little Miss Enchanted – Kids Spa , Parties and Entertainment
Welcome  to  Little  Miss  Enchanted,  Kids  Spa where we host pamper and spa parties.  The  destination  for  every  little  girls  dream  party.
Welcome to Little Miss Enchanted. We are a small New Zealand business and have hand created one amazing room for you to enjoy. You will not see this room anywhere else. It took the owner 3 years to create the Enchanting Princess Garden you see now, starting off with humble beginnings with just furniture and adding to it to make it more magical than anything you have ever seen before in a party room. We then added our Wonderland Spa two years ago for older girls and mother and daughter pampering.
We are a one-of-a-kind kids spa and pamper party destination, where girls can be girls and boys can be boys. A place where parents can reward good grades, positive behavior and milestones in a child's life. We are committed to creating lasting memories for kids in a fun and safe environment. All our staff are engaging, caring and well-trained and we stick to high hygiene standards.
Book a magical spa day for your child, or enjoy some pampering with them and book our Mother and Daughter pampering. Enjoying manicures, pedicures and facials. Or treat Nana, Aunty, God mother, Great Grandma, or Au Pair.
We offer a great range of  Pamper Parties in our One of a Kind hand created Magical Princess Garden party shop 68 main Road, Kumeu, Auckland. You will have the room privately booked for your party.
Book one of our Disney Princess Pamper Party Packages where your child can meet some of their favourite princesses or fairies such as Elsa, Anna, Snow White, Cinderella, Sleeping Beauty, Belle, Jasmine, Pocahontas, Ariel, Rapunzel, Tinker Bell, Fairy Missy, Enchanted Fairy and Fairy Flora!
Come along and play loads of fun games with your favourite characters and be pampered! Getting delightful mini manicures with gorgeous nail art, hair curled with pretty gems and an adorable gem princess tiara applied. Play some of our fun games such as flower ring toss, toss the turtle, toss the hedgehog, Tinkerbells treasure hunt, Snow White apple toss, dress ups, pass the Little Miss party game with prizes. Have your photos taken in our pretty pink princess carriage, photos with the princesses or fairies, watch a princess movie, show us your dance moves with our party music and so so much more!
Or maybe you'd like to go down the Rabbit Hole to our unique and amazing Wonderland Spa Party room with scented candles  and decorated in a magnificent Wonderland theme, where we offer amazing Spa Pamper parties. Perfect for older girls.  They can enjoy some lovely pampering from our hostesses using delicious products with foot soaks and peppermint scrubs, manicures, pedicures, Wonderland facials using New Zealand's very own The Bon Bon Factory. Delicious, vegan and PETA approved cruelty free products.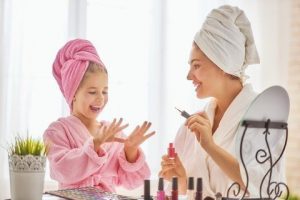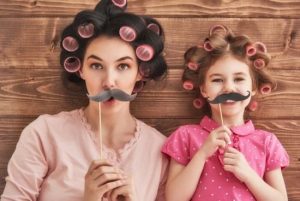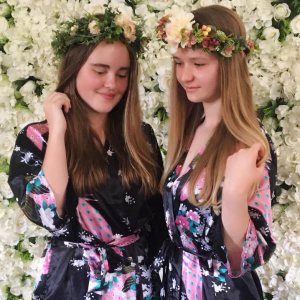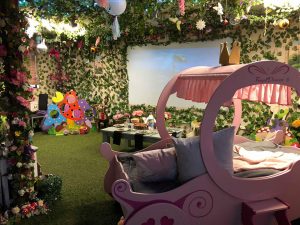 We have hosted over 2000 pamper parties. Come and try the BEST PAMPER PARTIES in Auckland for yourself
At Little Miss Enchanted we also host special events such as Little Miss Spa Days, Discos, Slumber Parties, Princess Pamper Days, Mother and Daughter High Tea, Secret Garden High Tea, just to name a few on special dates which will be promoted on our Facebook page. During the school holidays we have special days set up for these events where your child is welcome to come into Little Miss Enchanted by themselves or with some friends to have a fun day and be pampered. Keep an eye on our Facebook page, and Instagram page for updates on any events.